10 Amazing Airbnb Listings from Around the World
This month marks four years of non-stop travel, and during that time I have stayed in more Airbnbs than I can count. I anxiously await the rumored loyalty program, because my wandering, homeless self is about as loyal to Airbnb as it gets! But until I obtain my "Super Guest" status and the mystery rewards and benefits that go with it…I thought it would be fun to take a look back at my trips and share my top 10 Airbnbs from around the world.
To date, I have collected over 30 reviews on the platform, and that's only for places that I personally booked and from hosts that were kind enough to write a few words (many don't.) So why Airbnb over hostels or hotels? Because I work while I travel, and as a result I value good sleep, privacy and reliable internet. What I value even more (when I can get it) is a local experience. Though more and more hosts are starting to operate their Airbnbs like hotels, there are still hosts that live on the property and want to spend time with their guests. You might just have to work a little harder to find them! I find Airbnbs to be the perfect combination of quality and price and have had some incredible experiences along the way. The places I've listed here represent a variety of budgets and situations, so whether you're solo or taking off with a group, take a look! You never know, you may find your next home away from home, or at the very least, something pretty to look at.
Bali, Indonesia
This entire home in Canggu was one of the first Airbnbs I ever stayed in, and it is easily one of my favorites. I actually DREAM of returning here someday. The three-bed villa was perfect for my two friends and I, and we obsessed over our individual bedrooms, the stunning open-air common spaces, and the pool with a view. It was so nice that we could hardly be upset when we weren't allowed to leave it for an entire day. I'll explain. We unexpectedly arrived during Nyepi, a religious holiday in March that strictly requires everyone on the island to stay in their homes for a day of silence. Along with the house arrest came the expectation that we would use no electricity and be very, very quiet. With the whole island in darkness that night, the sky was a brilliant sea of stars (see the last photo in the carousel.) To explore this Bali listing, click here.
Edinburgh, Scotland
Edinburgh is a real gem of a city, and home to not one but two Airbnbs I would like to rave about. The first, with the killer living room, was one of those amazing yet rare local experiences that are becoming harder and harder to find. My host James lived in Edinburgh's New Town, and was kind enough to pick me up at the train station and show me around. Having traveled extensively and lived abroad himself, we had a lot in common and he was an instant friend. His hospitality went above and beyond, and he invited my friend Nicole and I to dinner and local Fringe Festival events (August is a great time of year to visit, by the way.) He also introduced us to his own friends and family, and was happy to chat and enjoy a glass of wine when hanging around the house. He made Scotland feel like home from Day 1, and I'm so grateful. Not to mention, his Georgian-style home was absolutely stunning, and cute kids and puppies were regular visitors. James' listing may not always be active depending on what he has going on, but if you're lucky enough to catch it you can find it here.
The second place was a different experience altogether in that I never actually met the hosts, Ellie and Scott. Their listing was for an entire apartment, and they offered the convenience of accessing it with a lockbox. Despite the lack of an in-person greeting, communication through the platform was flawless, and any issues I had (how the heck does the heat turn on?!) were quickly addressed and resolved. The space (the last three photos) was quaint, cozy and stylish, and I really enjoyed the bright and airy feel and charming details. Check it out here.
Valparaiso, Chile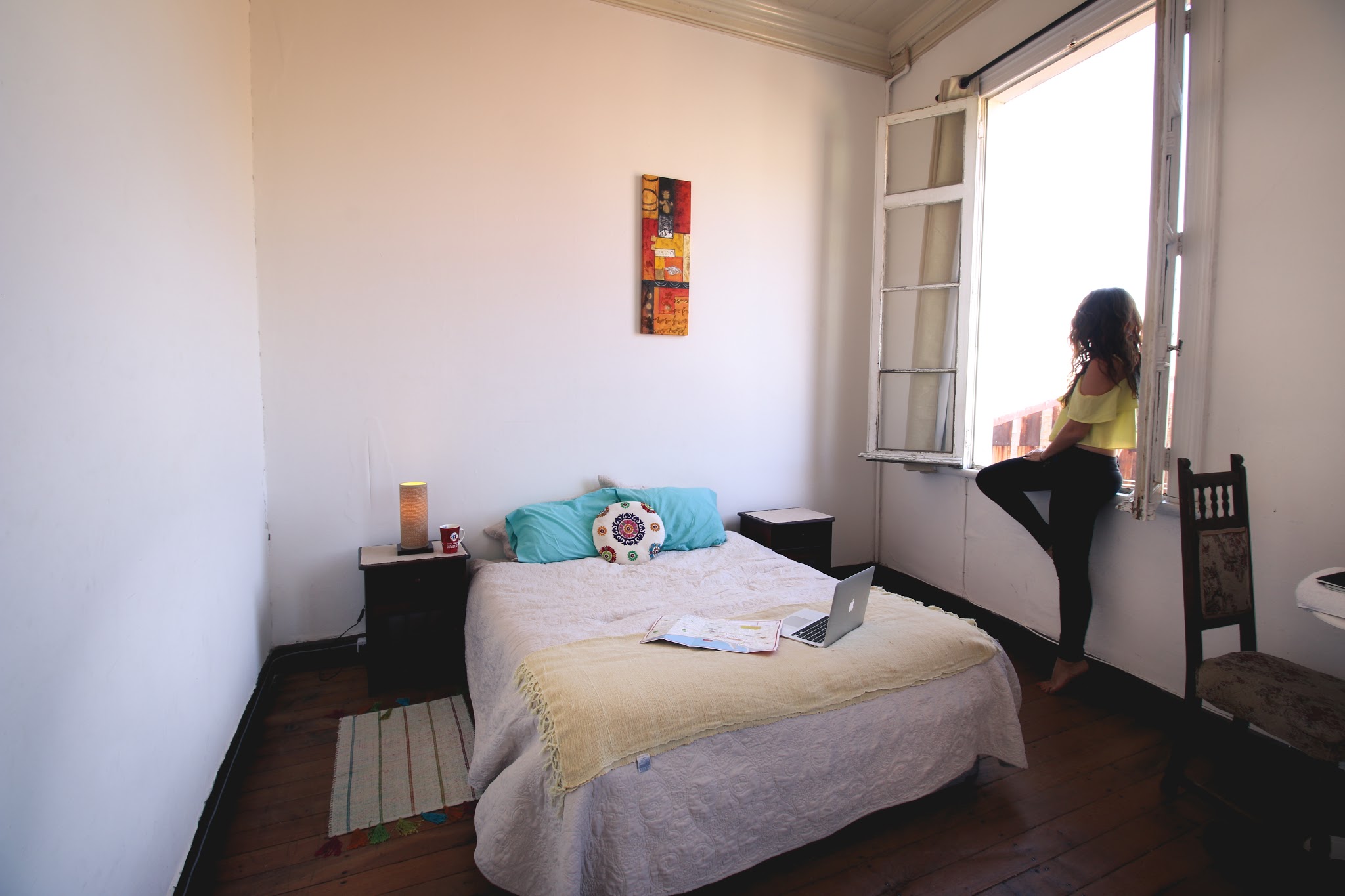 When you don't do your research and end up visiting Chile in the middle of a South American winter, it's nice to have a comfortable place to stay in. I booked a private room in Valparaiso for an entire month, hosted by a lovely couple named Javiera and Javier (I know. I'm sure that never got confusing….) In any event, the house was right in the middle of Cerro Alegre, a colorful and popular tourist neighborhood. My room was simple yet spacious, and had some great views of the rainbow-colored houses that populate the hills. The month had its challenges (being held up at gunpoint, for one) but I enjoyed local experiences with my hosts like going to a Santiago Wanderers soccer game and joining graffiti walking tours. If you want to read more about my month in Valparaiso, I wrote a blog post about it here. The room, at a reasonable $29 a night, can be found here.
Cusco, Peru
Altitude sickness, it's a thing. Give yourself a few days to acclimate to Cusco's 11,000 foot altitude by booking a comfortable Airbnb like I did. THEN you can go tackle Machu Picchu or Rainbow Mountain. I stayed in a beautiful private room hosted by a wonderful Irish woman named Eibhlin. Her home was absolutely lovely, and sat high enough over the city to offer the amazing views pictured here. Check out her listing and you'll see the same one- she loved the shot so much she included it at the end!
Mostar, Bosnia & Herzegovina
I took the above video for my Instagram story because I was beyond thrilled to get an entire apartment to myself for $31/night. I was so thrilled in fact, that I decided to stay in Mostar (typically a day trip destination) for a week! My host Renato was great, and having spent a lot of time in English-speaking countries, spoke the language impeccably. The apartment was modern and comfortable, it had fantastic Wifi, and it was ALL MINE. There was even a pancake restaurant on the first floor of the building. If you've never heard of Mostar, it's an incredible city with a fascinating history. The damage from the Bosnian War in the 90's can still be seen today, but it is still a beautiful place that is more than deserving of a visit. Take Stari Most pictured below for example. This was only a 10-15 minute walk from the apartment. The listing for this super affordable Airbnb can be found here.
If it's authenticity that you're after, a stay in northern Portugal's Douro Valley will do the trick. This Airbnb is a favorite of mine not necessarily for the place itself, but for the amazing experience that came with it. The place was an entire apartment located in Santo Adrião, a tiny village set, for lack of a better description, in the middle of nowhere. The host on the listing is Jose, however his mother Maria was the one ready to receive us. She spoke little to no English, and yet, was the sweetest, kindest host you could imagine. She owns a little cafe down the road from the Airbnb itself, and will insist on giving you a coffee upon arrival. She'll try her absolute hardest to communicate with you (we decided Spanish was our closest common language), so expect a combination of superior acting skills and hand gestures alongside a lot of Portuguese and maybe the occasional Spanish word. As for the house, it is surprisingly modern and updated considering the age of the village, and it's a great base for exploring the area. I didn't take any pictures of the house's interior, but the image above is a good indication of the local scenery, and was shot just down the road. When you're driving around, don't forget to pick up a 3 euro box of the most beautiful strawberries you've ever seen from a local! For pics of the place and more info, have a look here.
London, England
I haven't had a TV in over four years, so when time and a great Wifi connection are on my side, I am alllll over Netflix. A week in this fantastic London Airbnb and I was all caught up on Peaky Blinders. And yes, that's a giant bean bag chair that I'm snuggled up in. The host of this place is actually a good friend of mine, and he's got an amazing pad in the Clapham area. The listing is for a one bedroom in an entire apartment with all of the comforts of home, including a full kitchen, awesome desk and workspace, and beautiful bathroom with a deep soaking tub. The pictures on Airbnb are much better than any I took during my stay- so check out the listing if you're ever looking for a place to crash in London! Oh, and try not to get your wallet with the Airbnb keys in it stolen at a bar like I did. I'm sure he'll appreciate that.
La Fortuna, Costa Rica
A fantastic option for a group vacation or trip, this six-bedroom property is located on a banana farm in La Fortuna, Costa Rica. The property is HUGE, as you can see from this drone video, and you can even arrange a tour to better understand the crops that they grow and the various fauna, flora and wildlife it has to offer. The ranch-style home itself is beautiful, but you'll want to spend most of your time outside. There's a palm-tree lined driveway, gorgeous pool, hot tub and a hammock- what more could you want!? Get more info on the property's listing here.
It's no secret that Lisbon is one of my favorite cities in the world, and it's got some darn charming Airbnbs to match its darn charming everything else. I've stayed in a number of places around the city, but nothing beats the one I split with two of my fellow digital nomads in October of 2017. We split a three-bed/two-bath apartment in Alfama, Lisbon's oldest neighborhood. The apartment was completely renovated- and absolutely gorgeous. My own pics of the place seem to have disappeared, so I'll just leave this lovely listing righttt here.
Phuket, Thailand
Rounding out the list is the priciest and most ridiculous Airbnb of all- a luxury oceanfront compound that I never would have had the chance to stay in had it not been for my real estate job while living in Bangkok, Thailand. My stay here was part of a work trip, but if you could scrounge up 8 friends and split it- it wouldn't be so bad! You honestly wouldn't even want or need to leave the property. An onsite chef would cook up your meals, you'd spend your days lazing by the infinity pool, and you could even order a masseuse if you wanted to. I did!
The listing has many more photos here, but scroll through the carousel above for a few from my weekend of pure bliss.
Want $40 Off Your First Airbnb Stay?
While they haven't recognized my extraordinary loyalty yet, Airbnb does have a referral program. If you've never used the platform and would like $40 off your first booking, you can sign up using my personal Airbnb code. What does using my code do? It gives you $40 and credits my account $20. WIN-WIN!
I'm excited to see what other great Airbnbs I find in the coming months! Do you stay in Airbnbs? How have your experiences been?